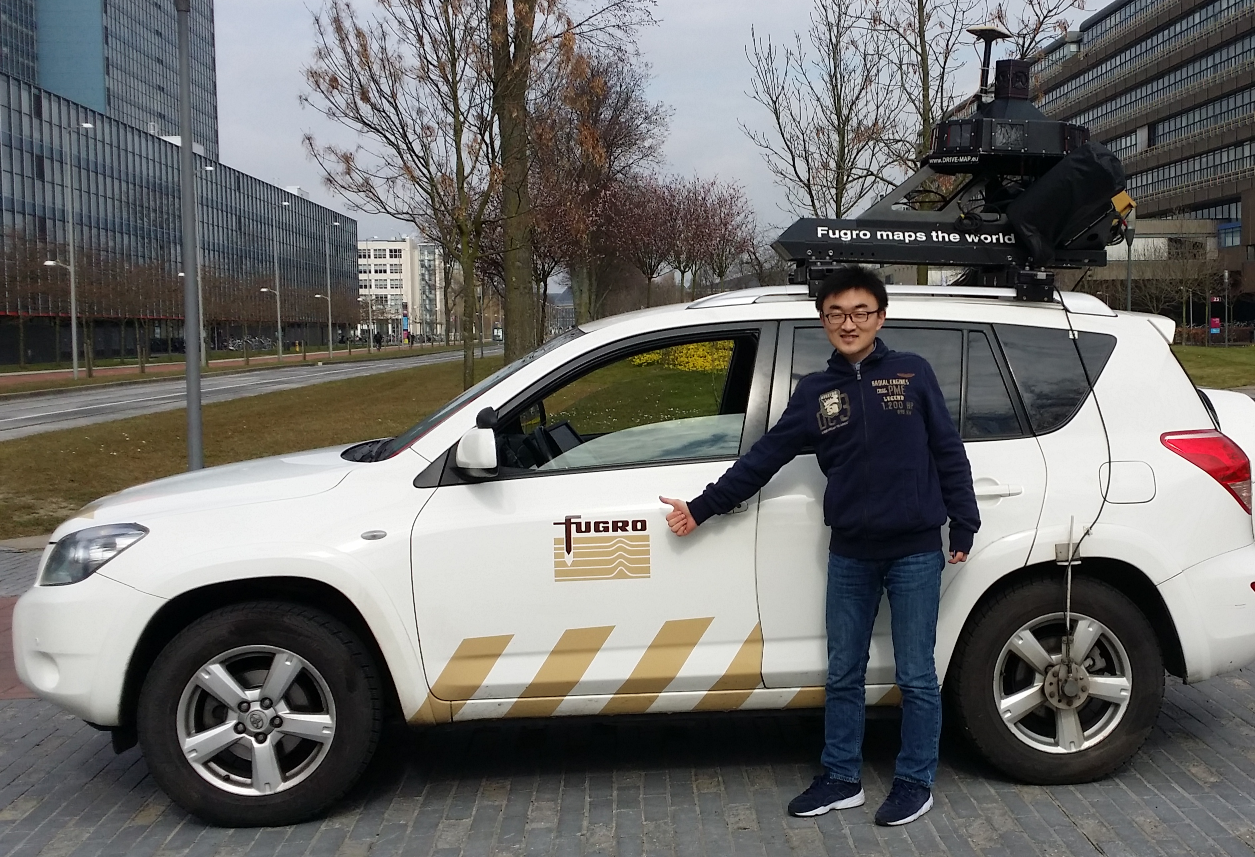 jinhu.wang(at)hotmail.com
Currently, I am a Research Associate in the Key Laboratory of Quantitative Remote Sensing Information Technology, Aerospace Information Research Institute(AIR), Chinese Academy of Sciences(CAS), Beijing, China.
Before joining CAS, I was a Postdoctoral Researcher with Dr. Roderik Lindenbergh in the Dept. Geosciences and Remote Sensing, Delft University of Technology (TU Delft) from July-2017 to November-2018. Between September-2016 and November-2018, I worked as a Software Engineer in Regional Innovation Center Europe (RICE) at Fugro, The Netherlands.
I received my Ph.D. degree in scalable information extraction from dense 3D point cloud data obtained by mobile laser scanning in the Section of Optical and Laser Remote Sensing (OLRS) under the supervision of Prof. Massimo Menenti and Dr. Roderik Lindenbergh at TU Delft in July-2017. Before that, I obtained a Master's degree at the Academy of Opto-Electronics (AOE), University of Chinese Academy of Sciences(UCAS) in 2012 and a Bachelor's degree at China University of Geosciences (Beijing) in 2009 respectively.
News
| | |
| --- | --- |
| Sep 9, 2022 | My proposal was granted by the National Natural Science Foundation of China. 🍺 |
| Sep 1, 2021 | Yuyu Chen joined the team for her M.Sc. study until the summer of 2024. |
| Nov 20, 2020 | I co-organized the 6-th Chinese National Conference on LiDAR held at CUGB.🍺 |
| Sep 7, 2020 | Lele Zhang joined the team for her M.Sc. study until the summer of 2023. |
| Oct 1, 2019 | I was awarded the 2019 edition of the E.H. Thompson Award issued by RSPSoc of UK. |
| Sep 1, 2019 | AOE, RADI and IECAS were reformed to establish AIR, CAS. |
| May 9, 2019 | I succeeded in defending myself as a supervisor for M.Sc. students at the UCAS. |
| Dec 12, 2018 | I started working as a Research Associate at the Academy of Opto-Electronics (AOE), CAS. |
| Mar 20, 2018 | I won the Best Paper Award at Dept. GRS & GSE research day. |